Restaurant Diary is a column where food editor Clementine Hecker reviews restaurants that stand out among the millions of options in New York City's restaurant scene
On West 32nd Street between 5th Avenue and Broadway amid the main drag of Manhattan's Koreatown, sits a little grab-and-go restaurant called Woorijip. The cafeteria-style eatery serves premade, homestyle Korean meals and stocks fresh food daily on a line of metal shelves, creating an enticing display of packaged soups, rice plates, and fish to feast your eyes upon as you enter. 
The options are simple, but the variety and price is unmatched. As your eyes dance across the shelves that line one side of the small space, they are met with perfectly portioned and daintily arranged plastic containers, which range in size and price. Small ones of warm miso soup or kimchi start at $4 while the largest servings like chashu pork over rice start at $12. 
Woorijip's calm presence stands out in the neighborhood: a condensed vertical landscape of Korean barbecue joints, karaoke bars, dessert spots, and spas stacked on top of eachother. Reading the building directories is like flipping through a magazine of endless delights that are just above you. Many of the establishments in Koreatown are on the upper floors of the buildings and rely on bright street advertising, long-standing reputations, or internet hype to draw in customers. Woorijip, on the other hand, is accessible directly from the sidewalk and doesn't display neon signs or have hosts calling you in. Instead, a small caricature of a classic triangle roofed house with smoke billowing out of the chimney marks the sign on its entrance. 
The name Woorijip translates to "Our Home" in Korean, and that is exactly what the owner of this cozy food hall has been creating since 2000. Woorijip's head chef and owner, Heidi Lee, said she wanted to share the food her kids loved when they were growing up. She opened her business to help New Yorkers  to "not only experience the taste of authentic Korean food, but also feel at home while enjoying it," according to the restaurant's website.
Lee has achieved this and much more. While Woorijip's presentation is as casual as it gets, there is something extremely charming about its dining system. Browsing the bountiful shelves brings out a giddy love for the nourishment of food and adds a sweet novelty to the experience.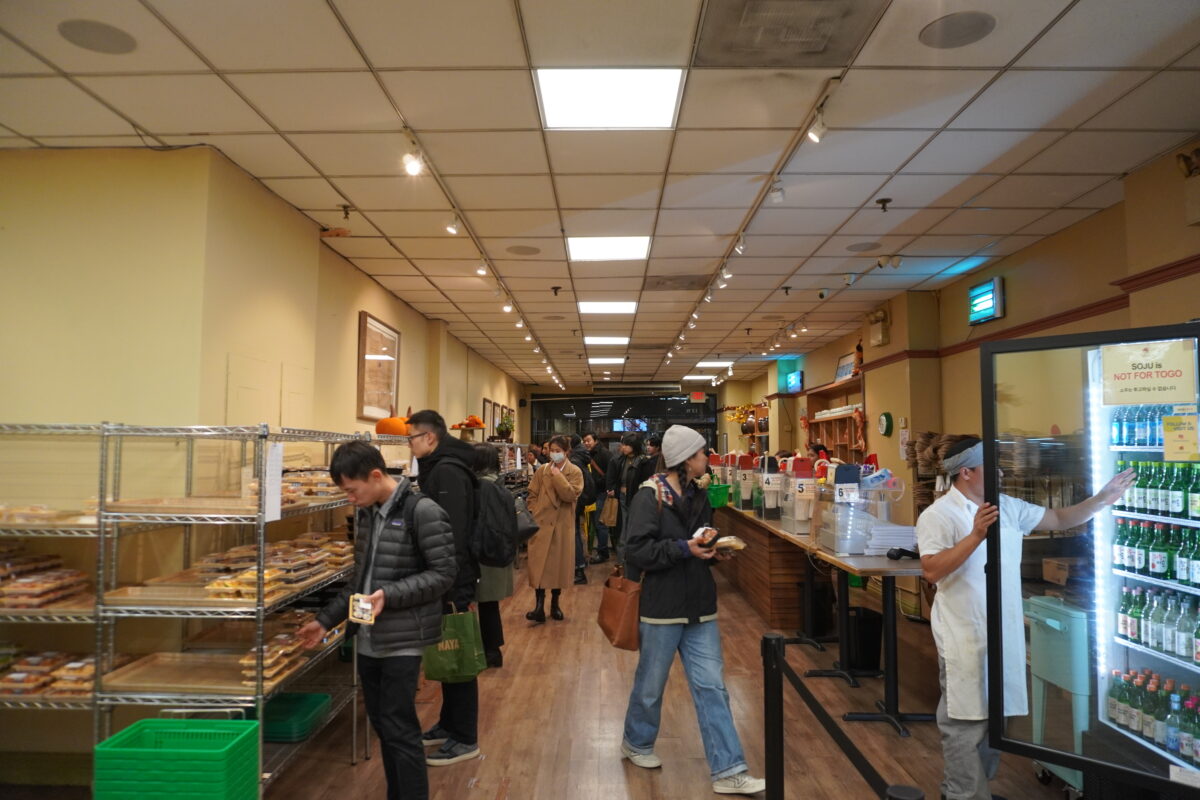 The process of mixing and matching options to create a meal is delightful, and what intrigued me about the restaurant at first. What has cemented Woorijip as one of my favorite restaurants in New York though, is the fact that I have never found any restaurant that has won me over so completely with every dish I have tried, especially at its accessible prices. 
The homestyle nature of the food means it is simply prepared yet packed with a flavorful nostalgia. Availability changes by the day and season, but it reliably has an assortment of classic Korean dishes. You will always be able to find a variety of meat-based lunchboxes like beef teriyaki, chicken cutlet, bulgogi, and salmon that are more than enough for one person and are priced anywhere from $10 to $14. But I find the most joy in the smaller dishes, often tucked away in the far corner of the shelves. 
If you look into the small glass warmer at the back of the restaurant, you will see half-quarts of bright orange and red stews with chunks of silken tofu (the kind that is softer than anything you can buy at a grocery store) floating around in them. My favorite is the spicy seafood stew that, along with tofu, has a wide variety of seafood like clams, shrimp, and squid that can surprise you each time you take a bite. 
If you are looking for something simpler, Woorijip also has many types of kimbap, which is a Korean seaweed rice roll dish similar to sushi. It stocks vegetarian kimbap with pickled vegetables and ones with bulgogi or fish. The different varieties of kimbap are continuously made throughout the day. Because they are kept at room temperature, the rice is still soft and moist, unlike the cold and dried-out kind you often find at many Asian grocery stores. 
A dish I never leave the shop without is the grilled or fried fish, and I haven't found something like it for the price anywhere else in the city. Woorijip always has a fish option that may be fried flounder or grilled or marinated mackerel, depending on the day. Generally around $8, the fish is packed with lemon slices and a deliciously light and sweet sauce that cuts the salty nature of the fish. 
In every dish, from the tteokbokki (spicy rice cakes) to the garlic chicken, you can taste the version of home that Woorijip is creating and inviting you into. It's affordable yet uncompromising in quality and quick and efficient, yet charming at the same time. And like home, I hope Woorijip will always be there when I need it. 
Woorijip is located at 12 W 32nd St. New York, NY 10001